CA Driving Lessons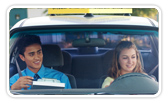 Looking for a list of driving schools in California that offer behind the wheel lessons that meet DMV licensing requirements for new drivers? With TeenDriversEd.com, you don't have to look any further because we have driving lessons by DriversEdDirect.com: a California DMV licensed driving school and a leader in the drivers ed industry. Not only does Drivers Ed Direct offer instruction for basic driving skills in both residential neighborhoods and on busy city streets, they also offer customized lessons for freeways, canyons, and your DMV road test. And to top it all off, you get it all in new hybrid training vehicles, with quality instructors, and with front-door service!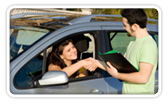 Get The Most Out of Your Drivers Training
Take an additional Freeway Intensive Lesson: includes lane change practice, merging onto and exiting the freeway, handling freeway interchanges, and defensive driving techniques


We teach students to developing a good driving attitude that is both courteous to other drivers and utilizes defensive driving techniques


We Discuss the IPDE (Identify, Predict, Decide, Execute) Defensive Driving methodology to make your teen a safer driver


Get residential driving lessons: includes basic driving techniques like braking, acceleration, performing turns, curbside parking, and pulling into driveways
Why Our Driving Lessons are The Best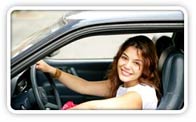 We have multiple training vehicles and even more instructors to help assure that you can schedule lessons in a timely manner, working around your schedule


Each of our male or female driving instructors are licensed by the California DMV


Our driving lesson curriculum is designed by a traffic safety consultant for the State of California


We are a local Woodland Hills driving school that has over 10,000 proud graduates.